Settings
All settings in Mervis IDE is available through the Tools menu item.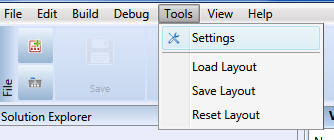 In the Settings window, the  language can be selected in the Culture option between Czech and English. (Other languages on demand, please contact your supplier.) The language is changed after program restart.
Filtering in Solution Explorer may be useful in larger projects.
Save layout on exit: the program saves the layout of all windows and the windows are restored at the next program start.
Show debug values: The current variable values will be displayed in ST programs in the Debug mode.